Over 32% Unemployment Rate in the US 2020
Over 32% Unemployment Rate in the US 2020 might be probable as the increasing trend of unemployed Americans shows. Based on CNBC article, coronavirus job losses could total 47 million, unemployment rate may hit more than 32%. What would be the rate unemployment of other countries? How long it takes the global economy to recover. Some experts say that we can also see some effects in 2021. So how about the recommend of business people and economists? How this can be stopped considering the fact the it's about the life and death so the health is more vital than jobs. but if it continues it might lead to poverty and hunger which one is really significant and might have more death tolls? We shall wait for the few next week and see if the increasing trend of coronavirus cases will reduce or not.
This unemployment number would diffidently lead to another great depression in 2020 and the US economy would collapse. Over 32% unemployment rate is horrifying and people better not even think about that but it is all over the news, just google it and read the news.
Business World and the Coronavirus Pandemic
Business world is severely and adversely impacted by the coronavirus pandemic. Although it is a global issue but some countries are suffering less. It seems that European and American Businesses are more badly influenced by the pandemic as now approx. 75% of the coronavirus cases are in these continents. Based on Worldometers.info, coronavirus has even taken more death tolls (around 82% of deaths of the world) in the US and Europe.
Over 32% Unemployment Rate in the US 2020 Probability
I hope we are going to see brighter days for the business world, in the near future.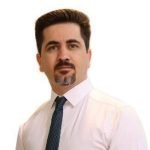 Yasha Sazmand, B.Eng., MBA
Business Consultant based in Tehran, Iran
Simultaneous and Consecutive Business Interpreter in Iran
Management and Science University, Malaysia – My Google Scholar Citations
CEO and Board Member – AKAM ATA Anzali Free Zone Co.

Contact Info: ceo @akam-ata.com |   WhatsApp / Telegram: +989120377020