US Ventilator Shortage – World Lack of Ventilation
Are there enough Ventilators in the world to prevent coronavirus deaths, Fortune asked. The answer is no, there isn't enough mechanical ventilators in the world as this was not unforeseen.
Donald Trump Says America's Ventilator Shortage Was "Unforeseen." Nothing Could Be Further From the Truth. Read the article published by The Intercept, There are lots of evidences and articles already published years ago mentioning the US ventilator shortage and the world mechanical ventilators shortages. The very well-written article by Nick Turse, March 24 2020. Illuminated that there are lots of evidences already mentioning lack of ventilators in the US.
Scientists Warned Authorities Years Ago, "Ventilators Shortages"
"The need for ventilators in the developing world: An opportunity to improve care and save lives", is the title of article published 6 years ago in 2014 by The journal of global health, The University of Edinburgh, Edinburgh University Global Health Society. The article is available on US National Library of Medicine, National Institutes of Health website now.
After 6 years in 2020, you regret that you needed to write these kind of articles? We don't expect ordinary uneducated people to read academic articles as most of these people tend to use, social media, Instagram, Facebook which merely includes some entertaining contents, pictures, photos and video clips. but we expect scientists and scholars put stress on what they articulated years ago and clarify that they had been warning this for ages. Who should be blamed here !? Authorities ignoring these kind of articles or the coronavirus pandemic itself which is considered "unforeseen". How about crisis management !?
Another academic article in 2011 (9 years ago), emphasized that is a pandemic, hospitals would experience shortages of ventilators and well-trained qualified health workers to operate these mechanical ventilators. Read the article here on US National Library of Medicine.
Businesses changed their Production Lines to Produce Ventilators
CNN Business, articulated that shortage of ventilators for coronavirus pandemic has made manufacturers to operate the production line like it's wartime.The US president, Donald Trump forced General Motors (GM) to produce ventilators by using the federal government's wartime powers considering coronavirus pandemic outbreak.
Tesla, GM and Ford Manufacturing Mechanical Ventilators.
These days, Telsa, GM and Ford started to manufacture mechanical ventilators, let's see if they can solve these problems and what other countries do in this regard as this might be a global issue in the coronavirus pandemic. However, it is more critical for the United States as it could easily prevent this shortage crisis but now it might be late as the country has become the epicenter of the world with dramatic increase in the number of coronavirus cases.
US Ventilator Shortage World Lack of Ventilation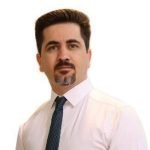 Yasha Sazmand, B.Eng., MBA
Business Consultant based in Tehran, Iran
Simultaneous and Consecutive Business Interpreter in Iran
Management and Science University, Malaysia – My Google Scholar Citations
CEO and Board Member – AKAM ATA Anzali Free Zone Co.

Contact Info: ceo @akam-ata.com |   WhatsApp / Telegram: +989120377020
US Ventilator Shortage World Lack of Ventilation