Business Consultants in Iran
Business Consultants in Iran, is what Akam Ata team provide you with. Akam Ata Anzali Free Zonem has a team of business consultants, business interpreters in Iran.
AKAM ATA Services:
Business Consulting Solutions
Business Management
Business Plan
Sales and Marketing Plan
Strategic Plan and Advice
Investment and Financial Plan
Business Interpreter in Iran
Human Resources Management Consulting
International Marketing Advice
Digital Marketing
Social Media and Advertising Campaign
Management Consulting
I worked in Iran and overseas. Over 10 years of International and domestic work experience. Having the experience of working for 100Furtune companies and globally well-known companies taught me so many things.
Working internationally, I have seen some people have been a business consultant or a business management consultant from the first day they have born. Believe it or not, they can not be great business consultants. Yes, being a business consultant might be a prestigious and well-paid job. But, how can businessmen trust you when you have never worked for someone? How can they trust you when they review your resume and do a background check? What do you have in your educational and professional background to make you a professional business consultant?
You have to study hard, work hard, manage a team, manage a company so that you gain experience to become a business consultant. I have been a labor, specialist, engineer, expert, senior specialist, supervisor, and then I became a manager. I have been a business interpreter in so many international business meetings. I climb the corporate ladder and then I decided to have my own company with a team of business consultants in Iran.
Do a Background Check on a Business Consultant
Therefore, if you are seeking advice from me. Choose a business consultant in Iran who has a great resume. Then you definitely need to do a background check. Is the resume reliable? Can you trust him/her? How well-known the consultant is? Does he/she has an office and a registered official company? and there might be so many other criteria you have. Select carefully.
Wish you Luck.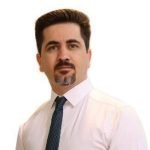 Yasha Sazmand, MBA
Business Consultant based in Tehran, Iran
Management and Science University, Malaysia
CEO and Board Member – AKAM ATA
Contact Info: ceo @akam-ata.com |   +۹۸۹۱۲۰۳۷۷۰۲۰